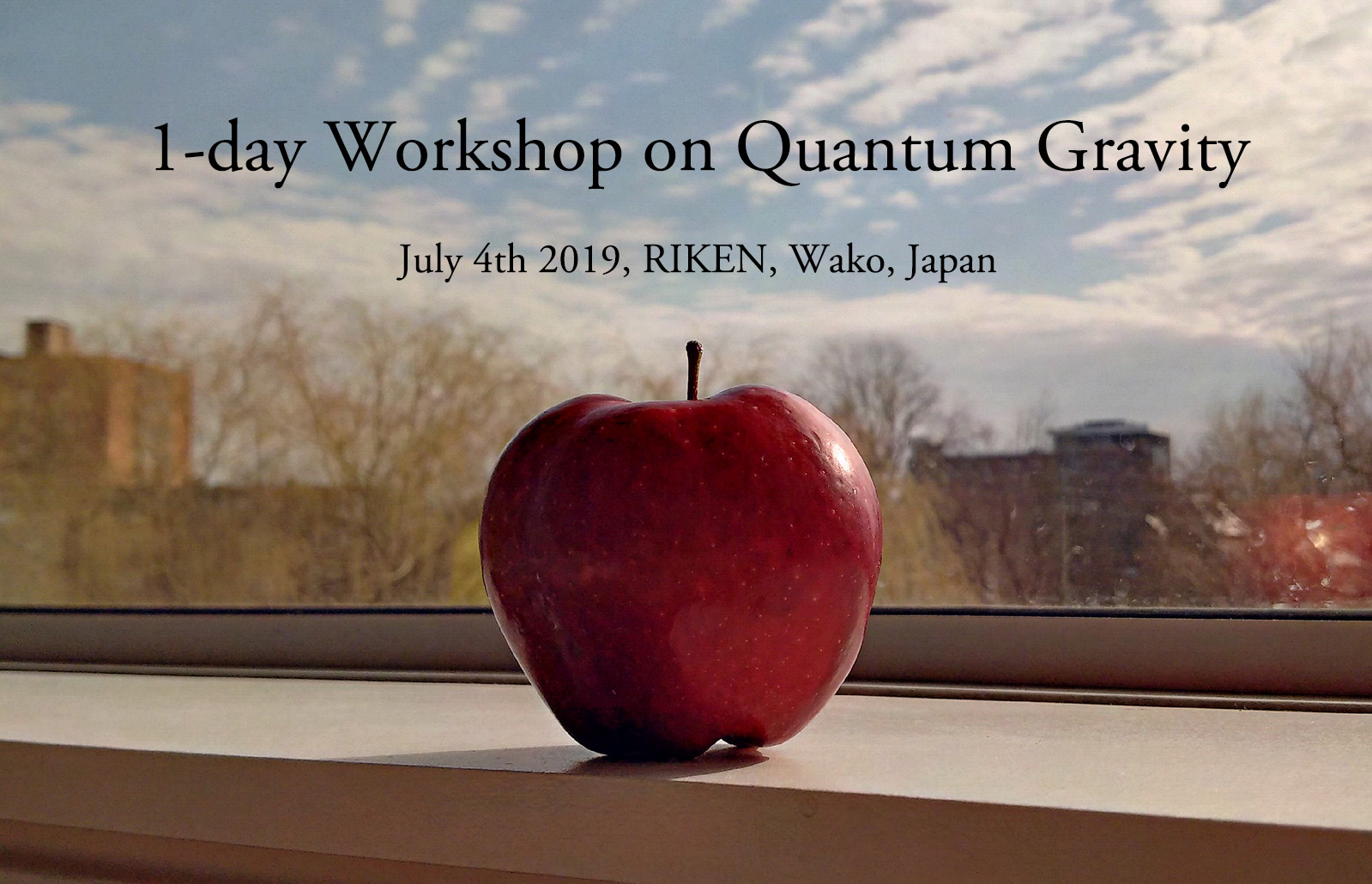 1-day Workshop on Quantum Gravity
July 4th 2019, RIKEN, Wako, Japan
In order to construct a quantum theory of gravity, it is currently required to study freely from various viewpoints. In this small workshop, we will discuss various different topics such as field theory, string theory, quantum black hole, quantum universe and so on, and will consider future directions to quantum gravity casually but deeply. Let's enjoy exciting discussions!
Speakers
・Pei-Ming Ho (National Taiwan University) "Trapping Horizon and Negative Energy"
・Keisuke Izumi (Nagoya University) "S-matrix Unitarity and Renormalizability"
・Hikaru Kawai (Kyoto University) "Quantum Universe and Naturalness"
・Yutaka Matsuo (University of Tokyo) "Quantum toroidal algebra and M-theory"
・Yuki Yokokura (RIKEN) "Black Hole as a Quantum Field Configuration "
・Tamiaki Yoneya (University of Tokyo) "Revisiting the quantization problem of Nambu dynamics"
Registration
Please register from the form below. It will be better if you do it by June 20.
⇒【 Form 】
Program
| | |
| --- | --- |
| 9:30 | Registration |
| 9:40 | Yokokura "Black Hole as a Quantum Field Configuration" |
| 10:40 | Coffee break |
| 11:00 | Izumi "S-matrix Unitarity and Renormalizability" |
| 12:00 | Lunch and coffee break |
| 13:00 | Ho "Trapping Horizon and Negative Energy" |
| 14:00 | Coffee break |
| 14:20 | Yoneya "Revisiting the quantization problem of Nambu dynamics" |
| 15:20 | Coffee break |
| 15:40 | Matsuo "Quantum toroidal algebra and M-theory" |
| 16:40 | Coffee break |
| 17:00 | Kawai "Quantum Universe and Naturalness" |
| 18:00 | Banquet (Hirosawa club 2nd floor) |
Place
#433, Main Research Building, RIKEN Wako Campus
【 MAP 】
Organizer
Yuki Yokokura (RIKEN iTHEMS)
Sponsor

RIKEN iTHEMS
https://ithems.riken.jp/en